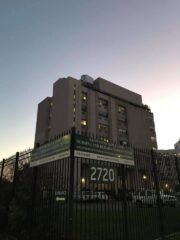 This website is dedicated to telling my story and the story of the abused patients who reside at Saints Joachim and Anne Nursing and Rehabilitation Center, located at 2720 Surf Avenue, Brooklyn NY. Within the contents of this website you will find detailed accounts of what transpires at this nursing home. The point of this website is to negotiate a better living standard for residents here. Additionally, to negotiate fair treatment towards myself by the nursing home. Here you will read my demands, what is happening at the nursing home currently, and what my approach will be if I can't come to an agreement with the owners of the facility. With that said I have also met some very nice staff members here, some of whom in my view saved my life many times over from the recklessness of lower grade employees here. 
Read this website carefully to really understand where I'm coming from. If the issue is not resolved I plan to do the following.
This website will continue to operate telling the world, social media, television and radio reporters, families and friends of current patients, families of future of prospective patients, prospective patients themselves and social workers in hospitals what goes on here.
I will continue to boost this site's ranking through automated software that builds links, a private blog network that points to this website, ordering seo services on sites such as Fiverr, and guest posting opportunities on other websites with links pointing to this website.
Using automated submission software that I own that are used for marketing and an article spinner. I will chop up the contents of this website into shorter articles and spin the articles into legible versions, along with different variations of the nursing home's name, any future names of this nursing home, the owners of the nursing home's names, the reckless employee's name and submit it to over 2000 Web 2.0 very high ranking websites. I will widely disseminate throughout (regardless if my website is taken away) the internet with real stories of what happens here to the point if you Google the name of the facility in any way completely or abbreviated, Google the name of reckless employees with their occupation, Google the name of a sleazy law firm involved in covering this up and Google the name of a sleazy attorney involved in the case. There will be articles, infographics, text that is turned to videos and PowerPoint slides coming up forever of what has happened. Any prospective customer of the nursing home and of the law firm will find this information forever on the internet. Any prospective employer doing background research wanting to hire this reckless employee or sleazy attorney will see this data. They will not only see this website but about 2000 other very high ranking Web 2.0 websites with high domain authority. These sites include but not limited to YouTube , Vimeo, Wikipedia, Pinterest, Facebook, Twitter, LinkedIn, Slideshare, Instagram, Reddit, Quora, Blogger, and over 2000 other websites that Google views as very authoritative and will display any fully or partially matching search query at the very top of results. A search for the future name of this nursing home, " Saints Joachim and Anne Nursing and Rehabilitation Center ", " Saints Joachim and Anne Nursing Home ", " SJAN ", " Joachim and Anne Nursing ", an employee's name if it not common, an employee's name and occupation regardless of how common the name is, an employee's name and the nursing home's name with lots of variations of the nursing home's name, a law firm's name, a lawyer's name if it is uncommon, a lawyer's name with his law firm's name if his name is common with word and spelling variations will all bring a flood of stories about the nursing home, the law firm or the person in question. The internet will contain several million pieces of content, most of the above keywords would be uncompetitive searches on search engines and will rank very high for pivotal search queries of interested parties looking on Google, Bing and minor search engines. What is the proper approach to deal with me? Just contact me and negotiate with me. I'm a reasonable guy. I have not done this yet, so no damage is done at this point. This website can be taken down as well. This all means that the nursing home can negotiate a solution without any damage to them whatsoever. However if I receive a cease and desist letter in paper or electronic form from the nursing home or any representative of the nursing home such as but not limited to a law firm or a court case is filed against me I will quickly, effectively and efficiently proceed with my plan without prior warning.
I will disseminate a press release to over 16000 media outlets and contacts using an automated software press release submitter. It will highlight what is happening at the nursing home. I will also contact my personal media contacts at several news outlets. I will make sure at least several stories are run about this matter, most likely by local media outlets since they will be most interested in a story of this nature. However, a major news outlet is not out of the question if they are interested in running a news story on nursing home abuse in general and want to highlight some case examples and use Saints Joachim and Anne Nursing and Rehabilitation Center as a target of that story.
I will use a software that automatically creates accounts and interacts with specific sites to create accounts on appropriate forums and question and answer sites and to efficiently make posts about what is occurring at Saints Joachim and Anne. These posts will come up anytime a Google search is made about the nursing home, a reckless employee, a sleazy attorney, a sleazy law firm or the owners of the facility.
Compile a specific list of active and future residents of this nursing home and contact their families to inform them of the abuse their loved ones are experiencing.
Once I saturate the internet with this information it will be impossible to remove even by me because the software creates the accounts automatically and the software can't log in and remove any articles, images and video after submitting. Nobody can remove this information, not even me, unless your lawyer wants to contact over 2000 one by one and go to the grueling process of proving to each and every site that there is cause for removal. This process alone can cost 4 million to 8 million dollars because of the quantity of websites. Of course I can just put this information back up at any time as well. I'm also judgment proof.
With the exception of the creation of this website, nothing above has been done, so any damage can easily be contained and is not permanent in any regard at the time of this writing. However if I'm forced to execute the above plan then once the information is disseminated on the internet and appears on a very large quantity of high ranking websites it will be impossible to retract these videos, infographics, posts and articles from the internet, even by court order. The above plan is very easily executable with the drop of a hat through automated software that I already have vast experience with.
I'm judgment proof in accords with New York State law. Suing me for monetary damages will not yield any results. However, it will make me angrier.
Under New York State and Federal law, some kinds of income and benefits can't be taken by a creditor and is protected from debt collection. Here is a list of money that is protected by the law:
Supplemental Security Income (SSI)
Social Security
Public Assistance (welfare)
Spousal Support, maintenance (alimony) Ordered by a Court
Child Support Ordered by a Court
Unemployment Benefits
Disability Benefits
Workers Compensation Benefits
Veterans Benefits (VA)
Railroad Retirement Benefits
Black Lung Benefits
Public and Private Pensions
Retirement Savings like a 401(k) and Individual Retirement Accounts (IRA)
Private Trust fund principal and 90% of any payments
90% of your salary earned in the last 60 days
And I don't own any property.